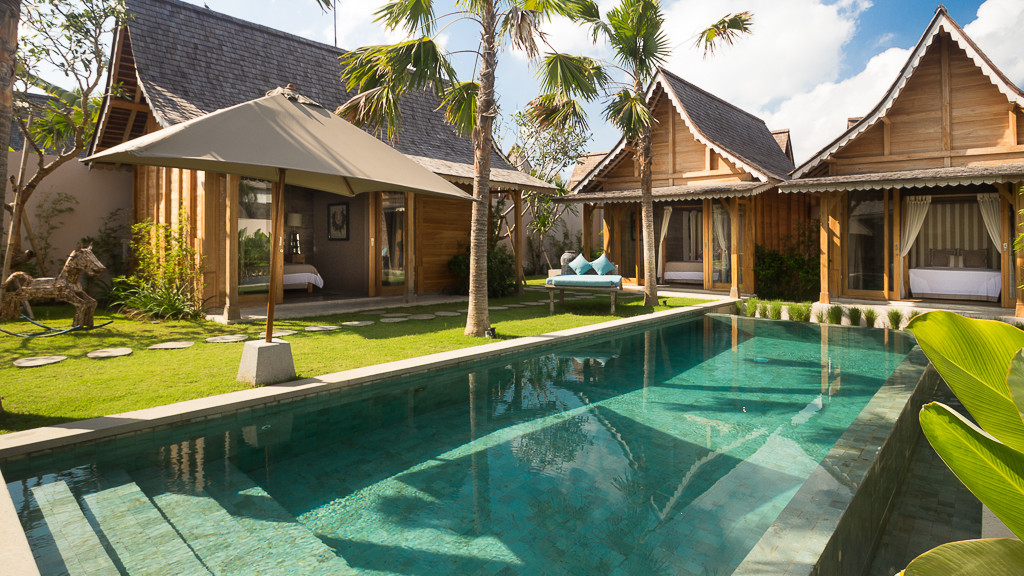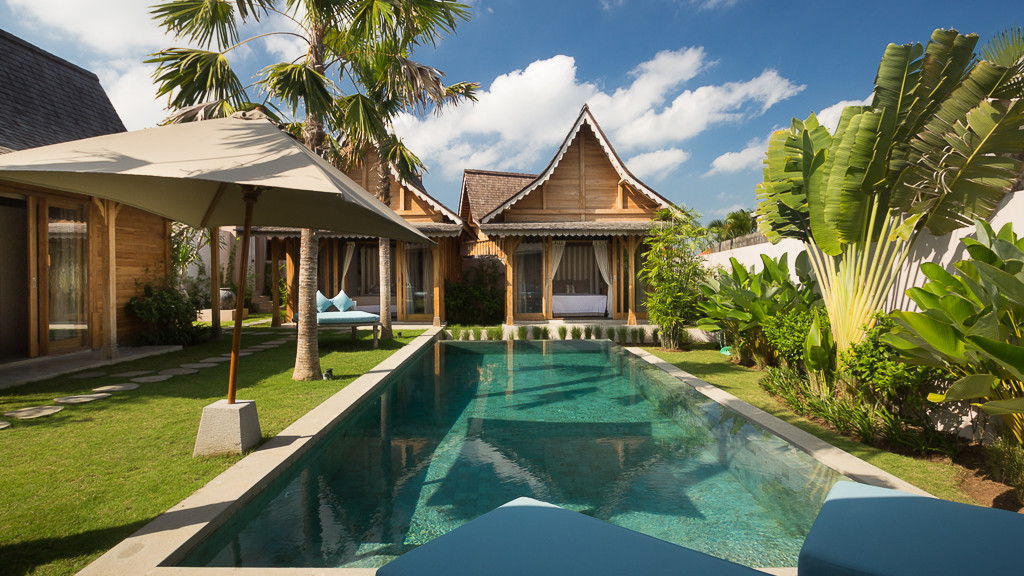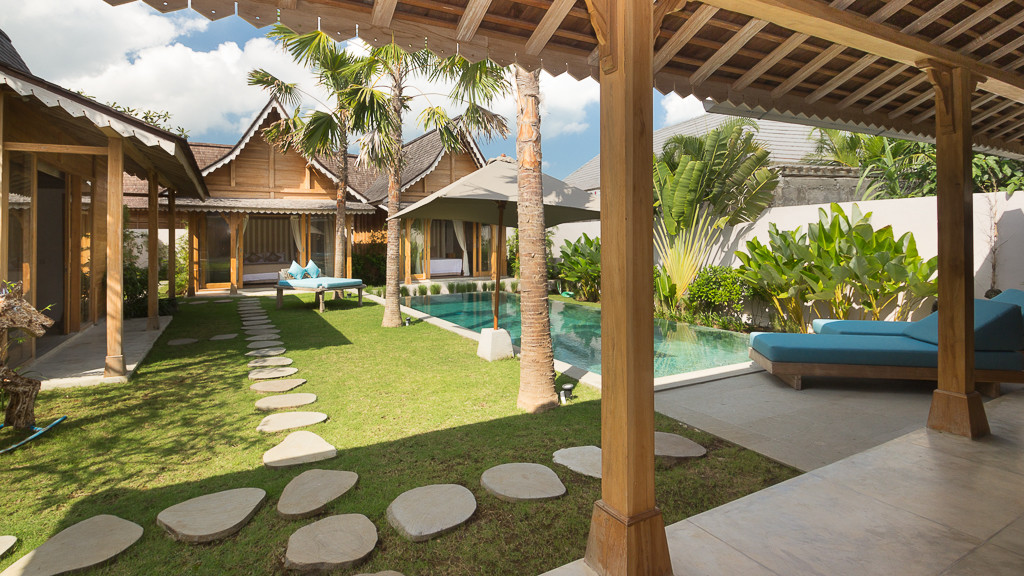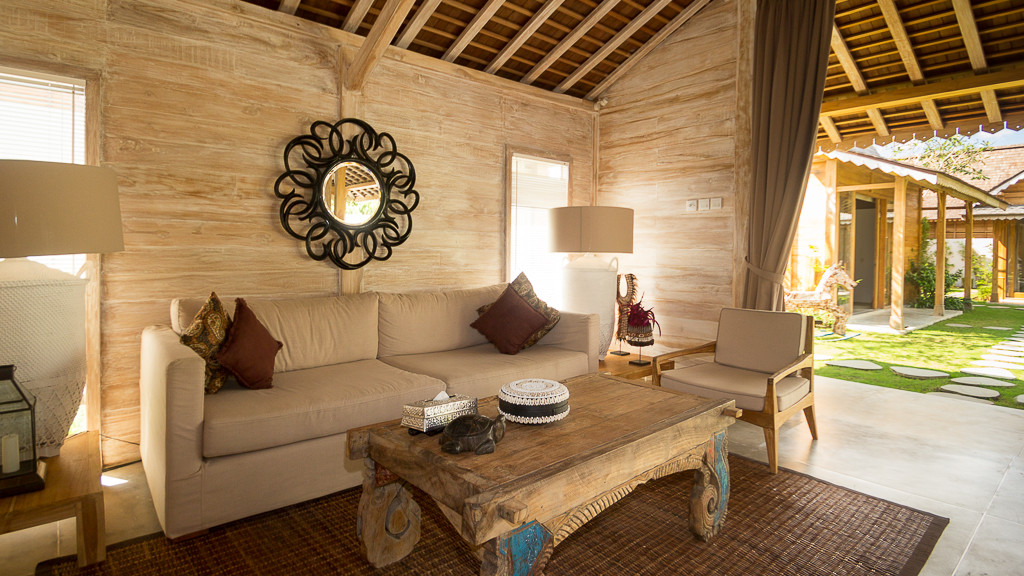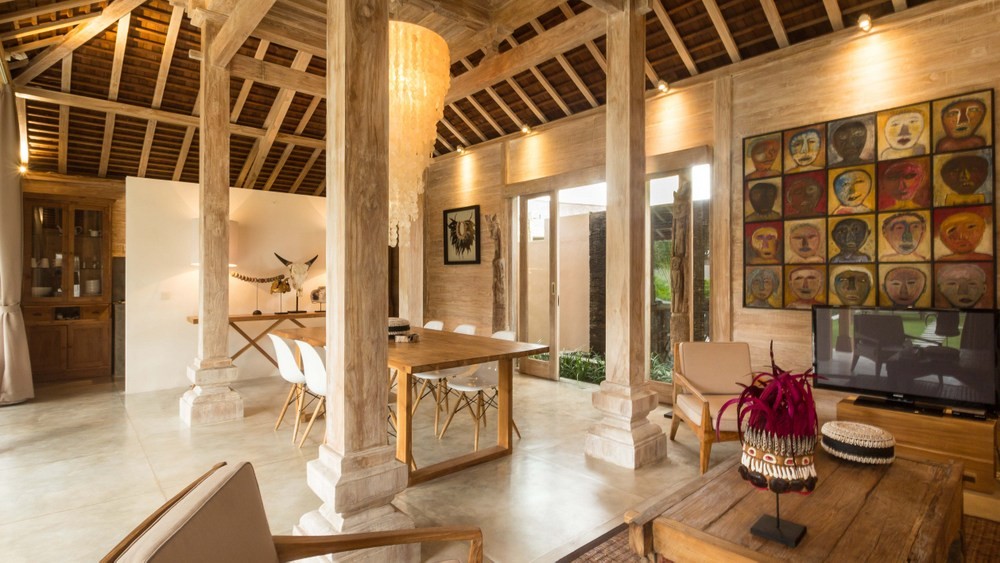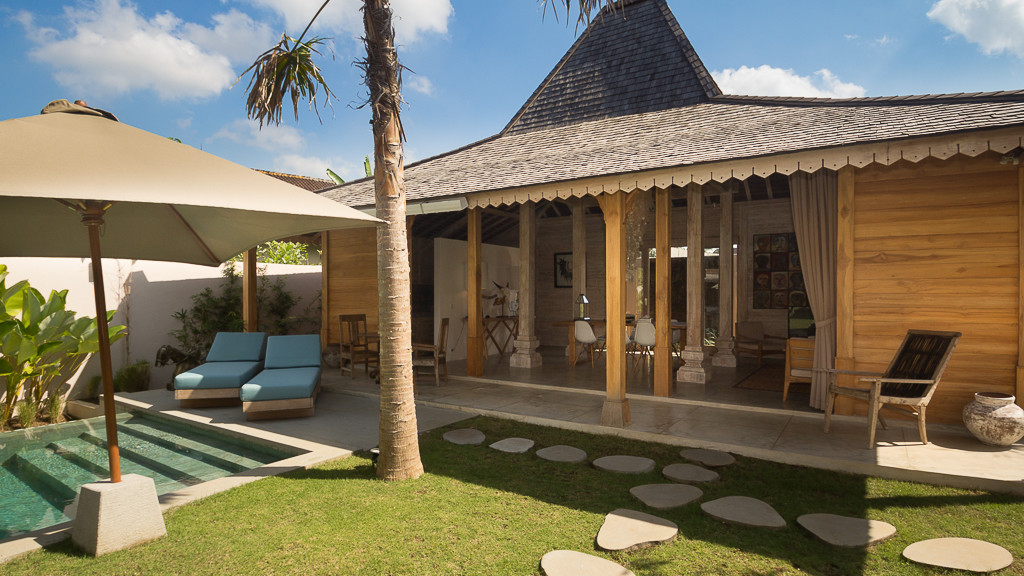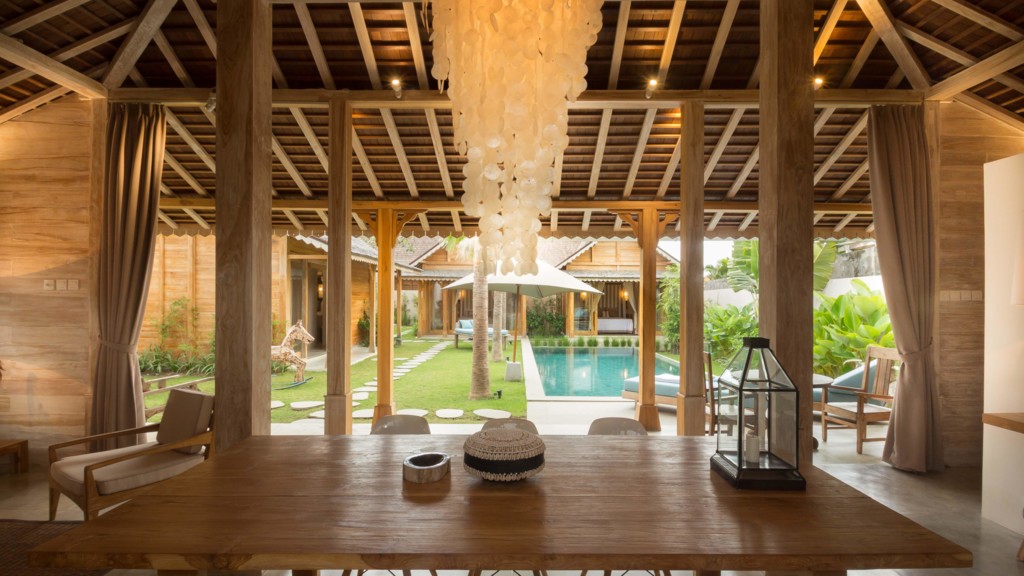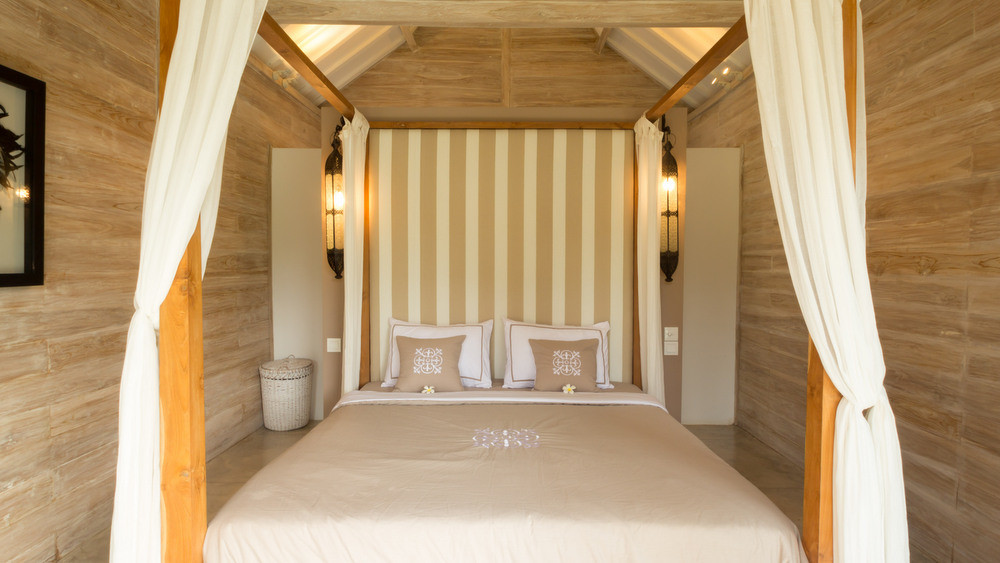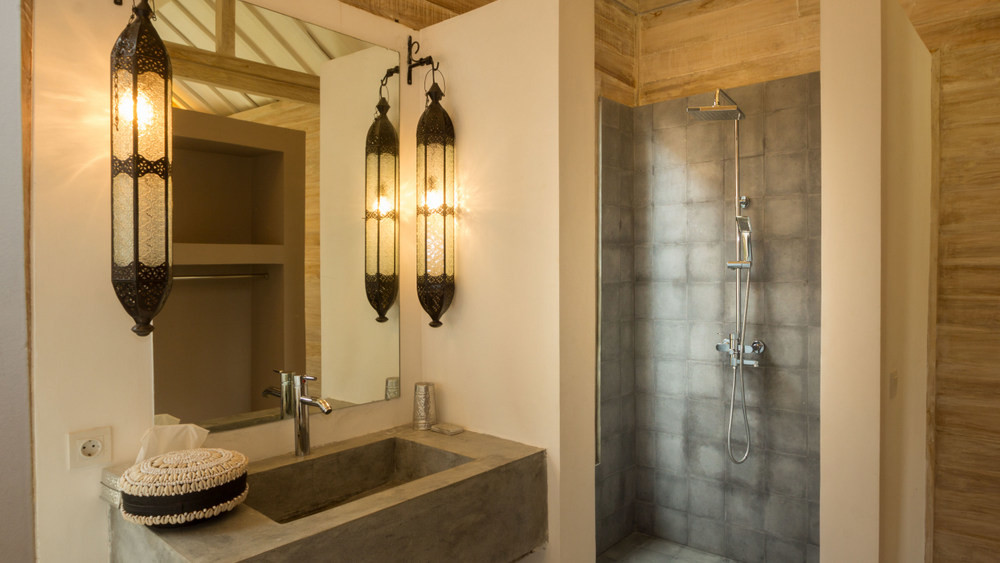 About Villa Du Bah
Recently completed and brand new on the market, Villa Du Bah is a traditional three bedroom home in the town of Kerobokan. Never further than 10 minutes from the action of neighbouring Seminyak and Canggu, this vacation rental is ideal for those wanting to be close to Bali's best dining and shopping venues but also away from the central hustle and bustle. Tucked away down a lane fringed by rice paddies, Villa Du Bah is completely exclusive to its guests, featuring a private 10 meter swimming pool amidst 370 square meters of tropical garden space. Up to six guests can comfortably sleep here at a time, and the villa can even be rented as just a two bedroom home for smaller parties.
Bedrooms
Each of the three bedrooms of Villa Du Bah look out to the swimming pool and are inspired by the classic design of Javanese Joglo architecture. Taking a modern twist on the traditional concept, these bedrooms feature open space and columns in the front, steep roofs and enclosed rooms, along with sliding glass doors and chic wooden walls. The first bedroom boasts a four-poster, queen-size bed in its center, enveloped in white mosquito netting and bordered by twin lanterns. Behind the bed's headboard is a partition separating the air conditioned room from the en-suite bathroom, where you will find a single sink, WC and shower alcove styled in grey-blue tiles.
The second bedroom is located just next door to the first room in another standalone structure. Also featuring a canopy queen-size bed and air conditioning, this room is styled with Indonesian artefacts and an antique chest along one of its wall. In the same fashion, the en-suite bathroom is located behind the partition wall and is identical in layout as the first, featuring a shower, sink and WC, as well as wardrobe space to store your personal belongings.
The third and final bedroom is located in between the first two bedrooms and the communal living pavilion. Furnished with a queen-size bed, dual bedside tables, lamps and air conditioning, the third bedroom also has an en-suite bathroom, this one behind a separating partition to the side of the bed. Guests can enjoy a shower, sink, storage shelves and WC. High quality bath towels and blankets are also available in each of the three rooms for guests' personal comfort.
Living areas
Lots of lounging options await you at Villa Du Bah. Choose between comfy daybeds and reclining chairs next to the pool, or retreat from the sun into the villa's main living room. Open to the natural air on both sides of the room, this living space boasts a six person dining table under a dramatic chandelier, along with a cozy sofa lounge with a three-person couch and two single reading chairs. Here you will also find a flatscreen TV, international channels and a DVD player for all of your entertainment needs.
On the other end of the room is the villa's fully-equipped kitchen, complete with a stovetop, refrigerator, coffee maker, water dispenser and cooking cutlery and utensils. During your stay at Villa Du Bah, the manager will be happy to arrange services of all kinds for you and your group, including home cooked meals, poolside massages and day trips to other destinations around the island. Don't worry about renting a car or negotiating for prices either; at Du Bah there is always a driver on standby to escort you from one destination to the next.
At such an affordable price and convenient location, Villa Du Bah is a win-win for families and friends travelling to the south of Bali!
Click here to see all 21 villa pictures
It was a pleasure to stay at Villa Du Bah as it is a pretty well-furnished place with clean towels and bathroom amenities. The bed in my room was also covered by mosquito netting. The staff were also very polite. Being was located in Kerobokan, the villa was pretty accessible to the main shopping places at Seminyak and Kuta via taxi.
We enjoyed our stay at Villa Du Bah. The villa is clean, spacious and well-equipped. It is nicely decorated as well, and the wi-fi was excellent. Villa Du Bah is a short drive away from Seminyak and Canggu, making it easy to access eating places like Merah Putih and Warung Dandelion. Great service from the villa staff and from the Villa-Bali.com team too!
Great Villa, had an awesome time with my wife and 2 kids (7 and 5yo). The swimming-pool is really big, relaxing atmosphere. A lot of great restaurants 5-10min drive (I recommend Mamasan and Canggu Beach club), we also did a 1h drive to the beautiful beaches of Uluwatu. Pin your location on your phone when you arrive as it may be very hard for taxi drivers to drop you there at night.
The rooms were good, but the mattresses were a bit hard also. There are no curtains in the bathroom so a lot of light comes in the bedroom in the morning. For the rest we had a perfect stay. Very friendly staff. Everything was clean. The villa is just 30000 rupiah with the taxi towards Seminyak. I can recommend these restaurants: Bambu(Asian), La Sicillia (Italië), La Luciola (seafood), Bistrot(european) these are a bit more expensive but all very good. The beach clubs in Seminyak are all worth the try, but you should definitely go to Finns Beachclub in Canggu. We were with 4 friends 26-36 age And we had a lovely stay in Bali.
Rooms were nice, the service is good. The soap bars provided are cheap and tiny. It is clean, well located. The parking area can get too narrow on occasions.
The villa is very new , the pool is huge and the staff is very friendly and helpful . Wish you come back to this villa very soon , love this villa so much !
Modern villa, tastefully decorated, in a quiet environment. Very nice garden with beautiful landscaping and a decent sized pool. We will be back!
Great rooms and pool. Nice living room, very open and well furnished. Villa manager was very helpful. Villa is just a little far from beach and city center (difficult of access without car)
It was such a great stay! Location is good if you are riding or if you have a driver. Staff are really efficient, helpful and friendly. Kudos to Citra for making it a memorable and pleasant stay for us!
Here are our availabilities for the next few months:
Minimum stay
2 Rooms
3 Rooms
from 14/04/2017 to 22/04/2017
High season
5 nights

USD $

295

USD $

295

from 22/04/2017 to 01/07/2017
Low season
3 nights

USD $

175

USD $

225

from 01/07/2017 to 01/08/2017
High season
5 nights

USD $

295

USD $

295

from 01/08/2017 to 01/09/2017
Peak season
7 nights

USD $

330

USD $

330

from 01/09/2017 to 16/09/2017
High season
5 nights

USD $

295

USD $

295

from 16/09/2017 to 20/12/2017
Low season
3 nights

USD $

175

USD $

225

from 20/12/2017 to 11/01/2018
Peak season
7 nights

USD $

330

USD $

330

from 11/01/2018 to 01/07/2018
Low season
3 nights

USD $

175

USD $

225