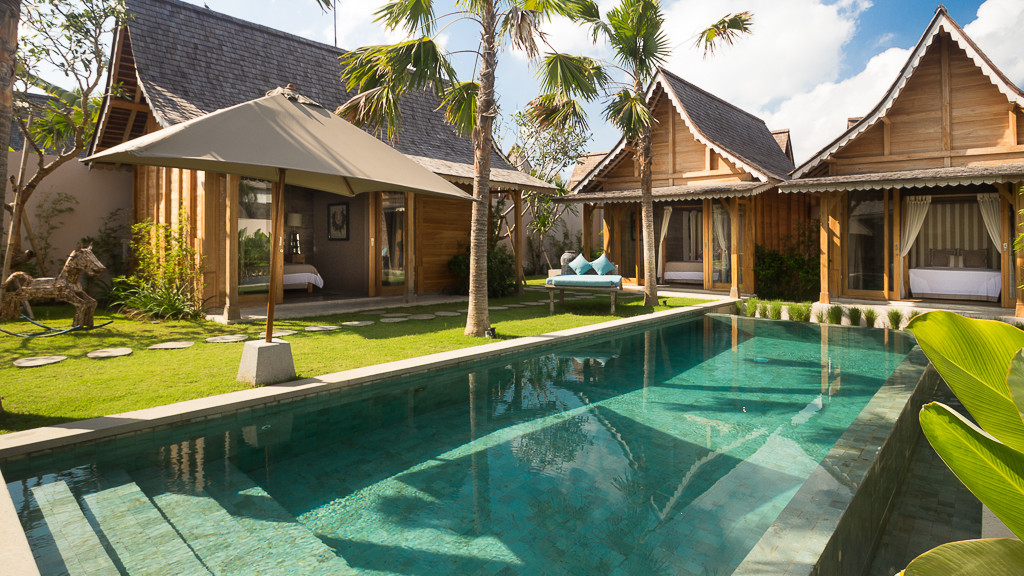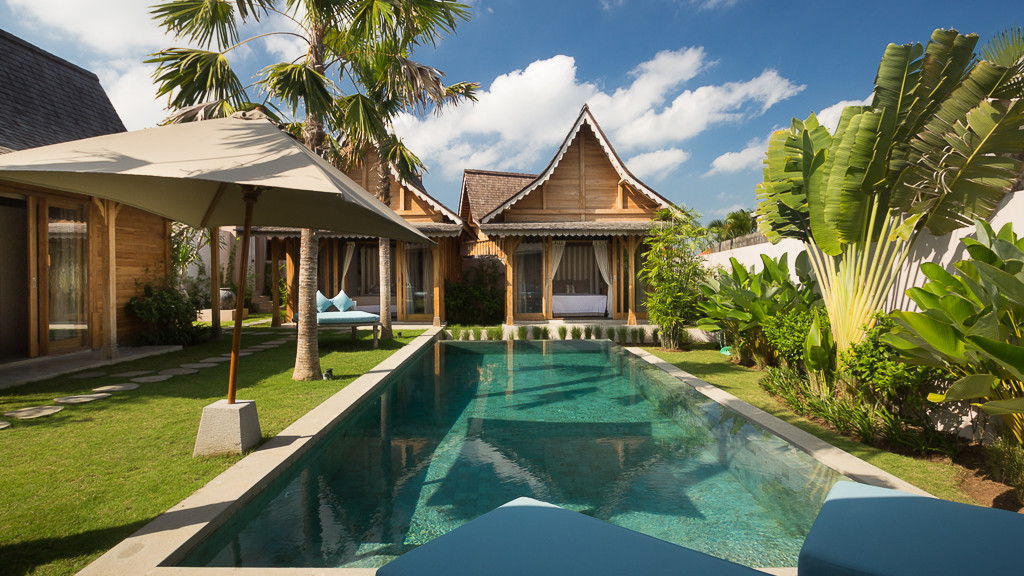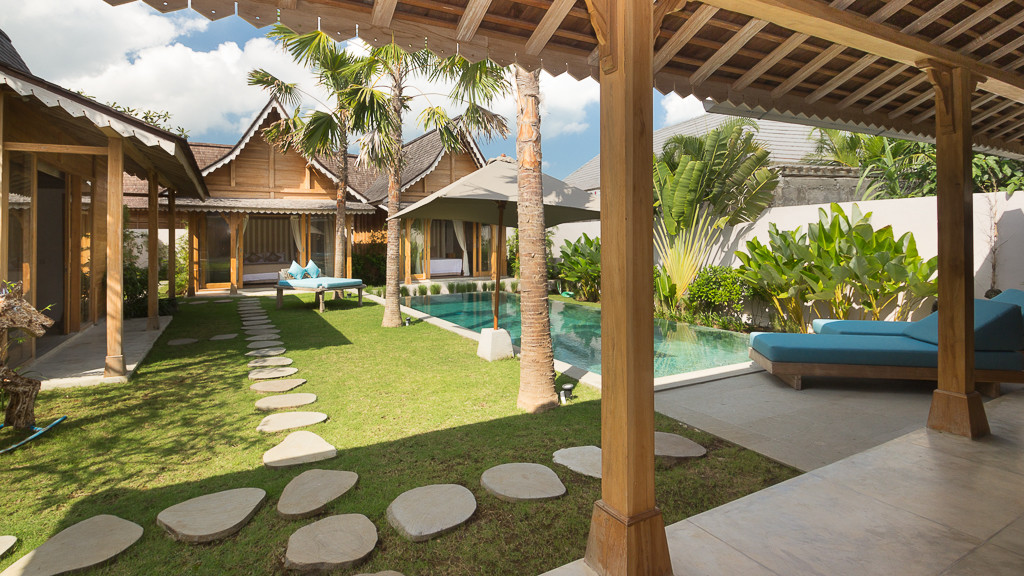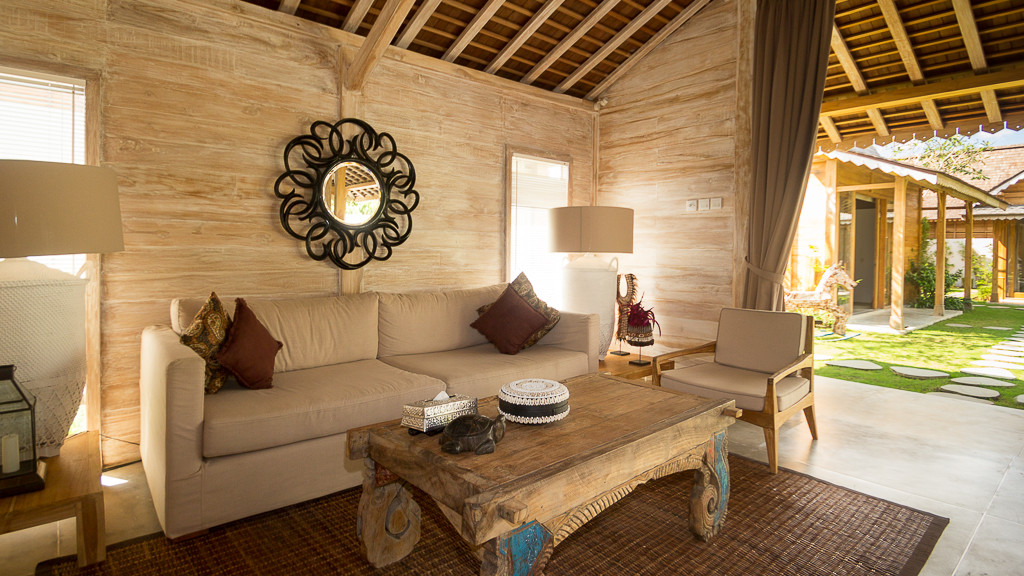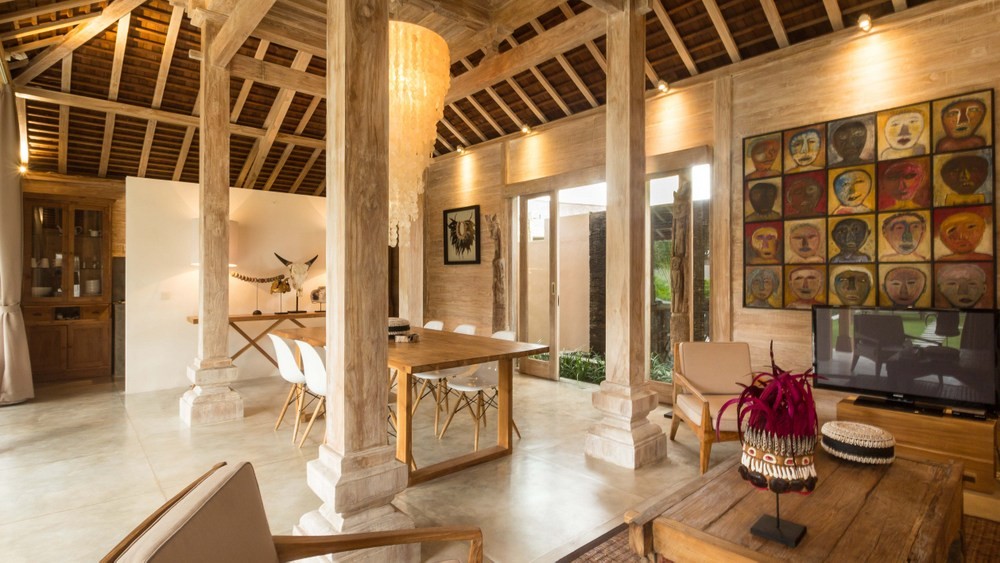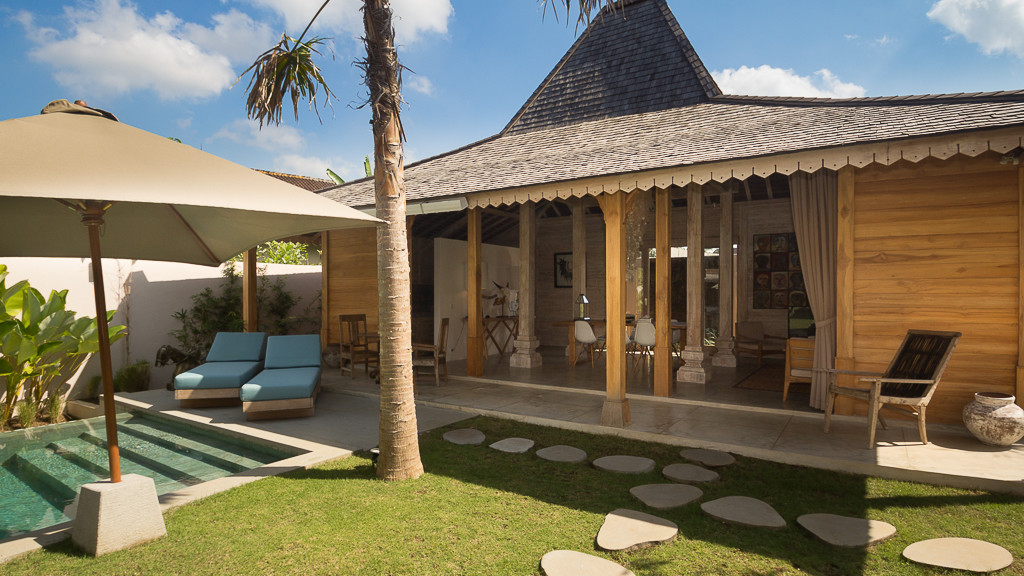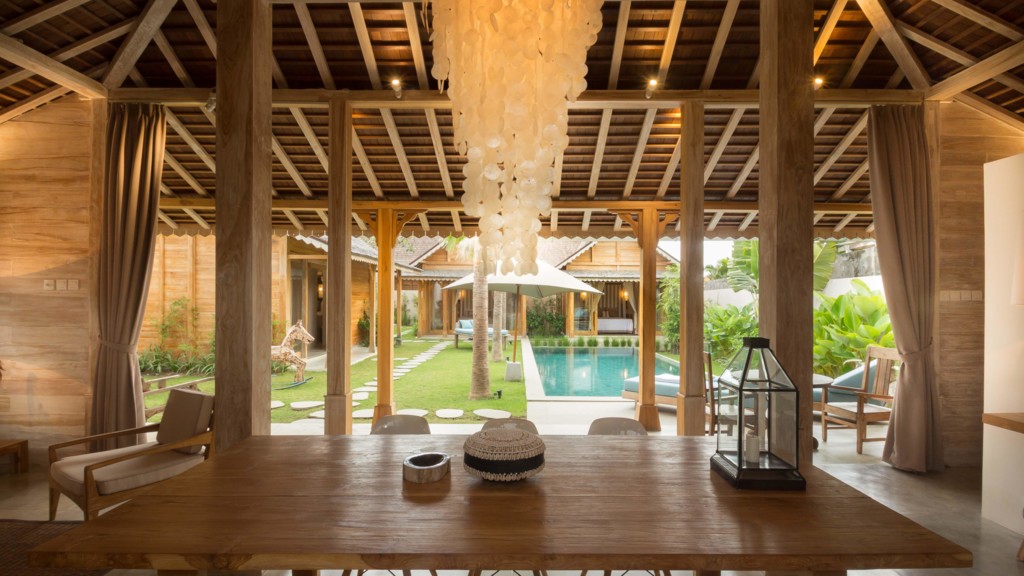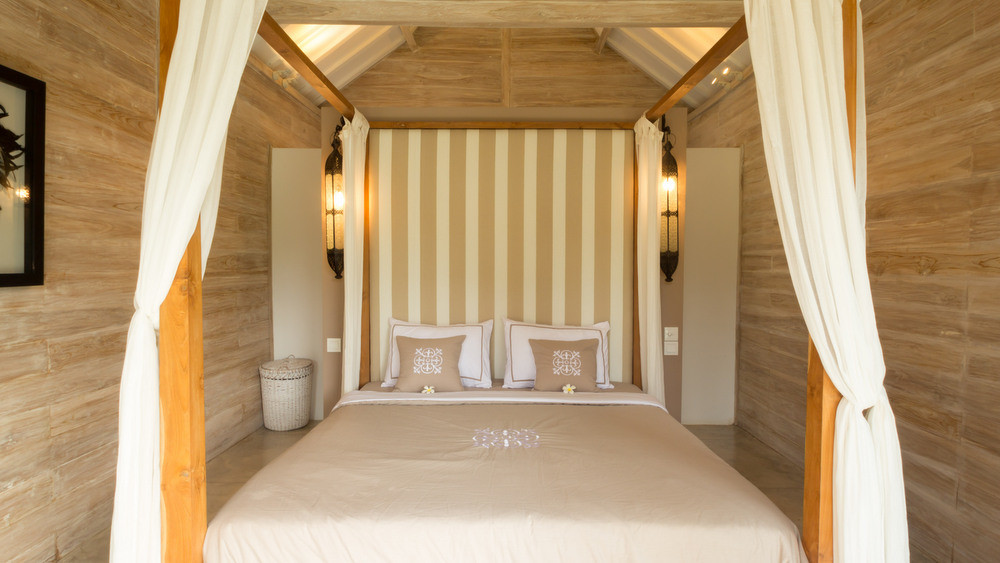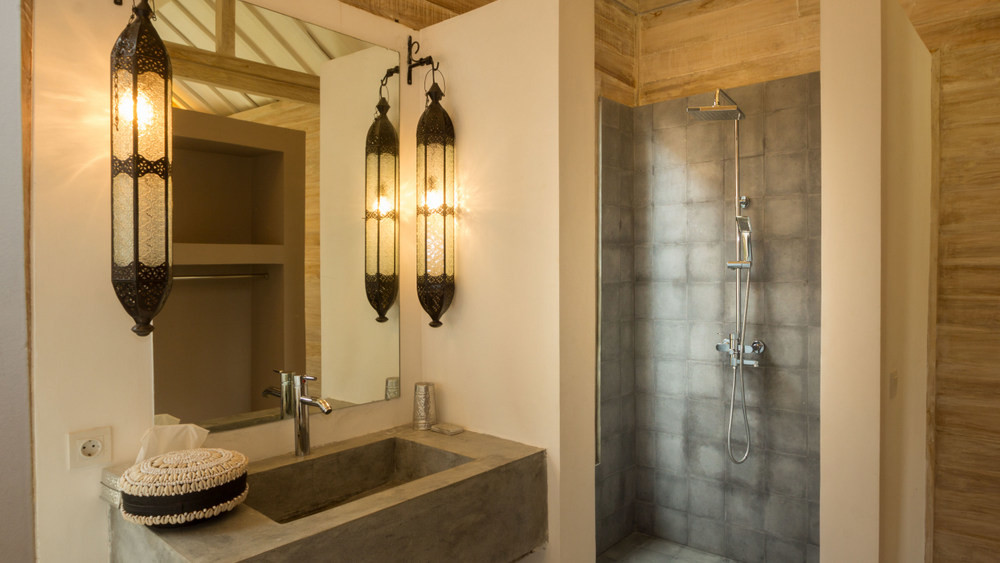 About our villa
Villa Du Bah consists of 3 beautiful, traditional Javanese Joglo-inspired pavilions, surrounding a peaceful lush tropical garden in which an inviting private swimming pool glisters. Hidden away in the rice paddies of Kerobokan, Villa Du Bah is the perfect holiday getaway for families wanting to stay somewhere peaceful yet not too far away from the islands most hot spots.
The largest Joglo, completed crafted out of local wood, houses the combined living and dining room. The Joglo features a wonderful open-concept architectural design, overlooking the garden, giving you a real sense of the sweet tropical island lifestyle. This light-filled pavilion has a real authentic and warm ambiance with its natural interior design ruled by hand-crafted whitewashed wooden furniture and tribal artwork. In the evening you can close the curtains, separating the living room from the breezy veranda, for a real nice and cozy feel. From the high soaring roof, in the center of the Joglo hangs a majestic chandelier crafted out of local shells, illuminating the dining table for six. On the right there is a cozy relax-corner with a big comfy sofa and two lounge chairs, surrounding a beautifully painted wooden coffee table. Here you can watch movies together on the big flat-screen television with DVD-player. The state-of-the-art kitchen, situated on the left side of the Joglo, is equipped with everything you need including a large fridge, coffee-maker, water-boiler, toaster and there are two wooden closets containing kitchen-ware. There is also a big safety box where guests can store all of their valuable belongings.
The veranda offers even more places to sit and enjoy drinks together, enjoying the view of your private peaceful oasis on Bali island, keeping an eye on the kids playing on the grassy lawn and in the natural tiled swimming pool. The pool-side loungers are perfectly comfy for reading a book in the shade of a parasol of working on your tan, lazing the day away in the sunshine. The garden also features a hand-crafted wooden rocking horse.
Excursions, in-villa massages, a personal driver or a babysitter can all be arranged for you upon request.
Steps in the green grass lead to the bedroom suites tucked in their own private Joglo-style bungalows. The master bedroom catches a lot of light with its full length glass doors opening up to a private veranda. The natural light and the earthy interior design, give the bedroom a calm and serene atmosphere, promising a restful night sleep. The room features air-conditioning, a king-size bed and a private en-suite bathroom fitted with a luxurious rain shower surrounded by blue colored walls and a window that looks out onto some tropical greenery, adding to the holiday vibe.
The other two air-conditioning bedrooms are designed similar with glass sliding doors and private verandas overlooking the garden. The rooms are fitted with canopied king-size beds and they come with private en-suite bathrooms.
Click here to see all 21 villa pictures
It was a pleasure to stay at Villa Du Bah as it is a pretty well-furnished place with clean towels and bathroom amenities. The bed in my room was also covered by mosquito netting. The staff were also very polite. Being was located in Kerobokan, the villa was pretty accessible to the main shopping places at Seminyak and Kuta via taxi.
We enjoyed our stay at Villa Du Bah. The villa is clean, spacious and well-equipped. It is nicely decorated as well, and the wi-fi was excellent. Villa Du Bah is a short drive away from Seminyak and Canggu, making it easy to access eating places like Merah Putih and Warung Dandelion. Great service from the villa staff and from the Villa-Bali.com team too!
Great Villa, had an awesome time with my wife and 2 kids (7 and 5yo). The swimming-pool is really big, relaxing atmosphere. A lot of great restaurants 5-10min drive (I recommend Mamasan and Canggu Beach club), we also did a 1h drive to the beautiful beaches of Uluwatu. Pin your location on your phone when you arrive as it may be very hard for taxi drivers to drop you there at night.
The rooms were good, but the mattresses were a bit hard also. There are no curtains in the bathroom so a lot of light comes in the bedroom in the morning. For the rest we had a perfect stay. Very friendly staff. Everything was clean. The villa is just 30000 rupiah with the taxi towards Seminyak. I can recommend these restaurants: Bambu(Asian), La Sicillia (Italië), La Luciola (seafood), Bistrot(european) these are a bit more expensive but all very good. The beach clubs in Seminyak are all worth the try, but you should definitely go to Finns Beachclub in Canggu. We were with 4 friends 26-36 age And we had a lovely stay in Bali.
Rooms were nice, the service is good. The soap bars provided are cheap and tiny. It is clean, well located. The parking area can get too narrow on occasions.
The villa is very new , the pool is huge and the staff is very friendly and helpful . Wish you come back to this villa very soon , love this villa so much !
Modern villa, tastefully decorated, in a quiet environment. Very nice garden with beautiful landscaping and a decent sized pool. We will be back!
Great rooms and pool. Nice living room, very open and well furnished. Villa manager was very helpful. Villa is just a little far from beach and city center (difficult of access without car)
It was such a great stay! Location is good if you are riding or if you have a driver. Staff are really efficient, helpful and friendly. Kudos to Citra for making it a memorable and pleasant stay for us!
Here are our availabilities for the next few months:
Minimum stay
1 Rooms
2 Rooms
3 Rooms
from 15/05/2017 to 01/07/2017
Low season
3 nights

USD $

170

USD $

175

USD $

225

from 01/07/2017 to 01/08/2017
High season
5 nights

USD $

295

USD $

295

USD $

295

from 01/08/2017 to 01/09/2017
Peak season
7 nights

USD $

330

USD $

330

USD $

330

from 01/09/2017 to 16/09/2017
High season
5 nights

USD $

295

USD $

295

USD $

295

from 16/09/2017 to 20/12/2017
Low season
3 nights

USD $

170

USD $

175

USD $

225

from 20/12/2017 to 11/01/2018
Peak season
7 nights

USD $

330

USD $

330

USD $

330

from 11/01/2018 to 15/02/2018
Low season
3 nights

USD $

170

USD $

175

USD $

225

from 15/02/2018 to 22/02/2018
High season
5 nights

USD $

295

USD $

295

USD $

295

from 22/02/2018 to 27/03/2018
Low season
3 nights

USD $

170

USD $

175

USD $

225

from 27/03/2018 to 04/04/2018
High season
5 nights

USD $

295

USD $

295

USD $

295

from 04/04/2018 to 01/06/2018
Low season
3 nights

USD $

170

USD $

175

USD $

225